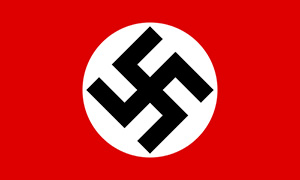 Recently MachineGames' new video game Wolfenstein: The New Order was released. In case you are not familiar with the popular Wolfenstein series, it began way back in 1981 with Castle Wolfenstein and essentially is a video game series revolving around Nazis and organisations which were active in Nazi Germany. You do not play as a Nazi, instead you play against them. So effectively you are killing Nazis within the game.
The more popular part of the series Wolfenstein 3D released in 1992 was "confiscated" in Germany in 1994 because of its use of the Swastika which in this context is considered a symbol of an unconstitutional organisation. The use of such symbols is regulated by German law in § 86a StGB and can lead to a fine and/or imprisonment of up to three years. When a video game is "confiscated" in Germany it effectively means the following (for a more thorough analysis see this (German)):
You are not allowed to sell the video game within Germany
You are allowed to buy the video game within Germany (however the seller is going against the law here)
You are allowed to own the game
You are allowed to import the video game from another country
So, assuming you already owned the game before the "confiscation", it is perfectly legal to keep it and play it. It is also perfectly legal to import the video game from another country which most people don't seem to know about. To me this doesn't really seem like a "confiscation" which is the German term used by law: "Beschlagnahmung", hence I put it in quotes. Instead I'd call it a ban, effectively censorship even.
Now you might be wondering: what about movies or television series involving the use of such symbols? Well, according to German law you may be allowed to make use of such symbols in certain cases like for example for "art" which is regulated in § 86 StGB. The next question is: those are considered art, but video games are not? Who says?
Answering this question would be an article on its own and effectively there is no decisive answer. It's a matter of court decisions in the past, a matter of a people that doesn't even want to touch certain topics due to a taboo and an industry that is rather scared and goes the "easy" way of censoring their video games for the German video game market instead of fighting against censorship.
Anyway, the discussion on why this ban exists is irrelevant to the point I actually want to make. As you have learned now, video games might get banned in Germany due to usage of symbols used by an unconstitutional organisation and regardless of that it is still perfectly legal to import such games from other countries. And here comes the catch.
Back in the days without digital rights management (DRM) it was as easy as importing a video game from another country, installing it and playing it. On the PC anyway, video game consoles already had a kind of a region lock through NTSC and PAL standards. But that's again another topic.
Let's go back to the recently released game Wolfenstein: The New Order which uses Steamworks as their DRM. To play the game you will have to activate it online with Valve Corporation's Steam software. And here's what Bethesda Softworks, the publisher of Wolfenstein: The New Order decided to do: they released a censored German version without the use of any unconstitutional organisation symbols and to top it off disallow the activation of the uncensored version from a German IP address.
Within Germany I'm only allowed to activate and play the censored version even though by law it is perfectly legal for me to import the uncensored version from another country. Since the Steam Subscriber Agreement disallows use of any proxy servers or virtual private network (VPN) to obfuscate my location, I have no legal and allowed means to play a perfectly legal and legit copy of an imported video game.
"You agree that you will not use IP proxying or other methods to disguise the place of your residence, whether to circumvent geographical restrictions on game content, to purchase at pricing not applicable to your geography, or for any other purpose. If you do this, we may terminate your access to your Account." - Steam Subscriber Agreement
Thank you for fucking over the honest customer. Obviously you don't want people's money, you made that abundantly clear.
Since Wolfenstein: The New Order is a single player only game it is happily shared by thousands of German peers... and you shouldn't even really be mad at them... Bethesda Softworks caused this themselves.