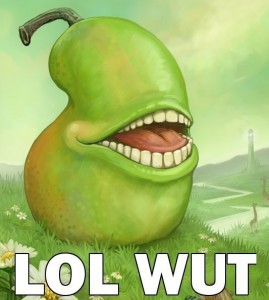 Are you familiar with the "LOLWUT" moment? Yes? No? Well, let me present you two ridiculous examples.
You may or may not be familiar with ICQ, an instant messaging service originally developed by Mirabilis in Israel, later on bought by AOL and just recently sold to Digital Sky Technologies, a Russian investment company which also holds shares on the popular Russian mail service mail.ru and even Facebook. ICQ is not that popular in the U.S. or the U.K. but it's still widely used in Germany (ironic much?) and Russia.
So, let's get started with the hypocrisy. Who cares who owns ICQ? Why would you care in case you're using it? For instance, take this portion of the ICQ Terms of Service which you have to agree to when using the service and registering an ICQ account:
"You agree that by posting any material or information anywhere on the ICQ Services and Information you surrender your copyright and any other proprietary right in the posted material or information. You further agree that ICQ LLC. is entitled to use at its own discretion any of the posted material or information in any manner it deems fit, including, but not limited to, publishing the material or distributing it." - ICQ Terms of Service
Yay, let's have some intimate and private chats. Wait, what? This could already be our "LOLWUT" moment but trust me, wait for it, it's getting better.
The U.S. government is concerned about the sale of ICQ to Russian investment company Digital Sky Technologies, guess why? Because now they can't eavesdrop on ICQ conversations that easily anymore. LOLWUT?!
Of course (!!), that's only for your security. Since they're trying to catch criminals and "terrorists" this way. Sure. And Santa gets you presents on Christmas Eve.
The hypocritical part about this is what analyst Jeffrey Carr has to say:
"The move would also be a boon to Russia's powerful secret service, the FSB, says security analyst Jeffrey Carr. Russian law will require ICQ to open its logs when the spooks come knocking, notes Carr, so "if you're on ICQ, and you work for an employer who may be of interest to the FSB, now would be a really good time to close your account"." - NewScientist
U.S. secret service spying on you? Yeah, why not? Nothing bad about it, they're your friends. Any other secret service? No way. BAD, BAD, BAD. Side note: You can't close or terminate your ICQ account.
Now onto my other example, also in the name of security.
You may have read about the United Arab Emirates wanting to ban BlackBerry Messaging within their country. Why would they want that? Because the U.S. and Israeli governments may use it to spy on the UAE and therefore it compromises "national security" (I can't hear it anymore).
The interesting part about BlackBerry Messaging is that it uses an encryption supposed to stop people from eavesdropping on your conversations. All messages are routed encrypted through Canadian servers of Research in Motion (RIM), the developer of BlackBerry.
So basically governments can't eavesdrop on your conversations which, of course, as a result compromises "national security" and that's why RIM, has two options: Either hand the encryption codes to the UAE government or face a ban on BlackBerry Messaging. That's the basic idea. Wow. But again, wait for it.
UAE's Telecommunications Regulatory Authority (TRA) set a deadline to October 11, 2010 for RIM to hand out the codes.
On October 8, 2010 UAE's TRA released a notice stating that:
"The Telecommunications Regulatory Authority (TRA) has confirmed that Blackberry services are now compliant with the UAE's telecommunications regulatory framework." - TRA announcement
What does this mean? Did RIM hand out the codes? We can only assume, but check this out:
"The company has, in fact, already provided unencryption codes to officials in the U.S. and Great Britain." - NASDAQ article
LOLWUT?!
And once again we're having the same hypocrisy: U.S. government eavesdropping? Sure thing. Any other government? No way.
Excuse me, but I don't want any government to eavesdrop on my conversations just because they're stuck up about "national security". Please, grow up.
So, in the name of your privacy, please use securer and open instant messaging services like Jabber/XMPP combined with GPG/PGP and/or OTR. Or even IRC combined with FiSH. Discuss without the fear of being eavesdropped. Stay private.
Update: Read an update of this article here.