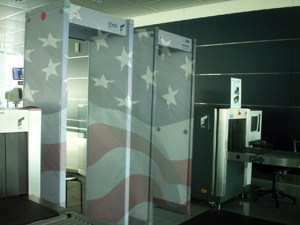 Welcome to the United States of America (USA)! Please step right through our national mascot: the Stars and Stripes metal detector, probably made in China, India, Pakistan or some (other) third world country, who cares! We are proud of it and thus you have to be too!
I've been to the USA recently and I am rather disappointed with that trip. It's not the first time I visited the USA, I've been there before a couple of times, first in 1993 in fact. What I want to talk about is mostly my opinion of the USA turning into a police and surveillance state, which surely is getting worse and worse by the day. My last trip before this one this year was in 2007, where they already took fingerprints and a photo of everybody wanting to get into the USA, be it vacation, business trip or anything else. You want to come in? They shall have your fingerprints and a photo. Now if I recall correctly, back in 2007 they "only" wanted your thumb prints of both hands. This time they wanted prints of every finger of both hands. Do I have a problem with that? Yes, I do. In my opinion it is ridiculous to have everybody under this general suspicion of whatever they are afraid of (TERRORISM! OMG!) and justify taking prints this way.
What is also new for me is their online registration form (Electronic System for Travel Authorization (ESTA)) which you have to fill out, basically to apply for entry in the first place (instead of a visa). Enter all your personal data into it, including passport number and answer some questions. Like for example:
"Do you have a communicable disease; physical or mental disorder; or are you a drug abuser or addict?" - ESTA
Or my favorite:
"Have you ever been or are you now involved in espionage or sabotage; or in terrorist activities; or genocide; or between 1933 and 1945 were you involved, in any way, in persecutions associated with Nazi Germany or its allies?" - ESTA
Why, yes, of course! I've been born after 1945, which I just told you, but surely I was associated with Nazi Germany. But hey, before even answering these questions, check this out:
"On March 4, 2010, President Obama signed into law the Travel Promotion Act (TPA) of 2009, Pub. L. No. 111-145. The Act directs the Secretary of Homeland Security to establish a fee for the use of the ESTA system, comprised of $10.00 for each VWP applicant receiving authorization to travel to the United States and $4.00 for the processing of the ESTA application. Applicants who are denied authorization to travel to the U.S. under the VWP will only be charged $4.00. The fee may only be paid by credit card. Applicants may save the application data and return to the application at a later date to enter the payment information. However, the application will not be submitted for processing until all payment information is completed." - ESTA
Nice. $14 going directly to the U.S. Homeland Security. And of course it may only be paid by credit card, what else? That way they also have your credit card info and can check all your previous transfers. After all you might be funding Al-Qaeda and just don't want to mention it.
Oh well, first rages were had. But anyway, finally I arrive there. The usual patriotism is the first thing that hits you at the airport: big USA flags, a store with all kinds of patriotism items (more on that later). Don't get me wrong, patriotism to a certain degree is not that bad in my opinion, however in the case of the USA it just seems hypocritical. Why? More on that in a bit. The patriotism obviously continues when I was at an American football game: "Please rise and take off your hats for the national anthem of the greatest nation in the world." (something along that, not an exact quote). Even the stadium logo, which was illuminated only in green before, turned into a Stars and Stripes animation. Of course it wouldn't be a proper American football game without some U.S. Army veterans showing up during small breaks so everybody can cheer for them.
What made me rage the most, though, is the fear of terrorism (OMG!) everywhere. Go up the Empire State building? Metal detector, x-ray! Go up the Rockefeller Center? Metal detector, x-ray! Hence the new national mascot of the USA: the Stars and Stripes metal detector. Visiting a museum? Backpack check! Visiting an American football game? Backpack check! Look up the ceiling in any building: security cameras! Look up the sky in New York City: security cameras on light poles! Oh, if you could just see this George Orwell...
Something that also made me shake my head was the American Museum of Natural History. At one point they show a movie how humans are destroying the earth with their lifestyle, logging rain forest, etc. And then there is the planetarium show "Journey to the stars" which shows how great our universe is and how it was created. In the credits of the show it mentions that it was "made possible through the generous sponsorship of"... wait for it... Lockheed Martin! One of the world's largest "defense" (read: military weapons) contractors. How ironic is that?
Anyway, coming back to my previous point about hypocritical patriotism. Let's just have a look at those two products:
Which of these products was proudly made in the USA? Which wasn't? Click the products to find out. (Sorry for the bad image quality)
And this is something you will find everywhere all over. Buy a model Statue of Liberty for your living room at the patriot store at the airport, or anywhere else, it doesn't really matter: it is made in China. Obviously most products these days are made in China or (other) third world countries since the actual labor there is way cheaper and capitalists always want to have the most profit they can get. I get that. But how can you justify producing patriotic products like a model Statue of Liberty or fan equipment for American football teams there? Pure hypocrisy.
To sum everything up with some nice words by Trey Parker: America, FUCK YEAH!
Original article photo cc by-sa Daquella manera